TouchDRO V3 Release Status
TouchDRO Version 3 is the latest major version of the application. It was initially released to the Google Play Store and Amazon App Store in early 2023. The new version is almost a complete ground-up rewrite of the application. This includes a full revamp and modernization of the user interface, significant improvements to the performance and stability, and sizable enhancements to the DRO functionality and configurability.
TouchDRO user manual is currently being updated to reflect the change in the new version and covers the new functionality in more detail.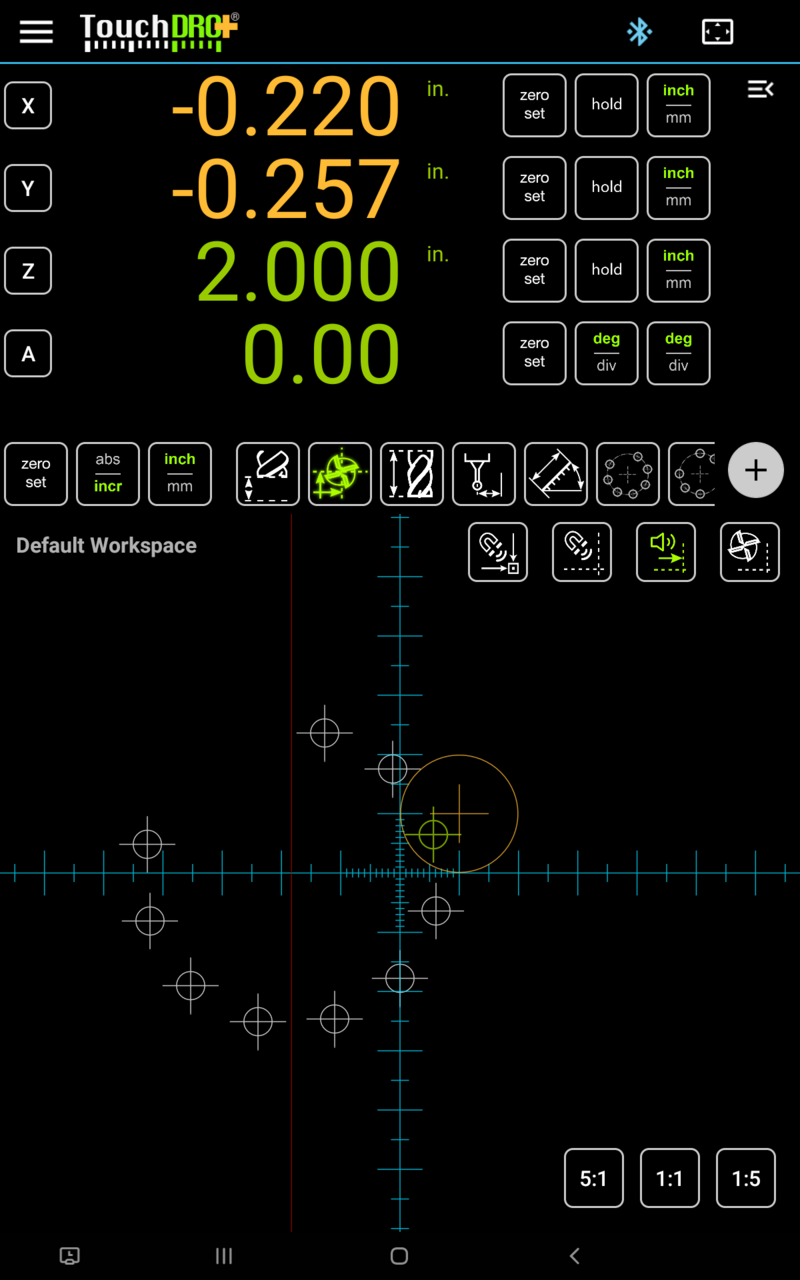 Expected Release Date
Majority of the features are completed and thoroughly tested. The code functionality of the application has been very stable for a few months and has been available for "Opne Beta" testing since November 2022. There are a few oustanding issues around storage upgrade. Particularly, saved tool library upgrade sometimes doesn't recognize metric tools and imports their dimensions in inches. There also are a few small issue when using Saved Sub-Datum Memory in 2D mode.
Access to Beta Testing
TouchDRO V3 has been available for Beta testing since May 24th, 2022. Access to the Beta version is open but requires opting into the "open" testing track. The opt-in link is located on the TouchDRO Google Play Store page (as shown below). Once you join the Beta program (which usually takes under 30 minutes), you will be able to upgrade TouchDRO to V3.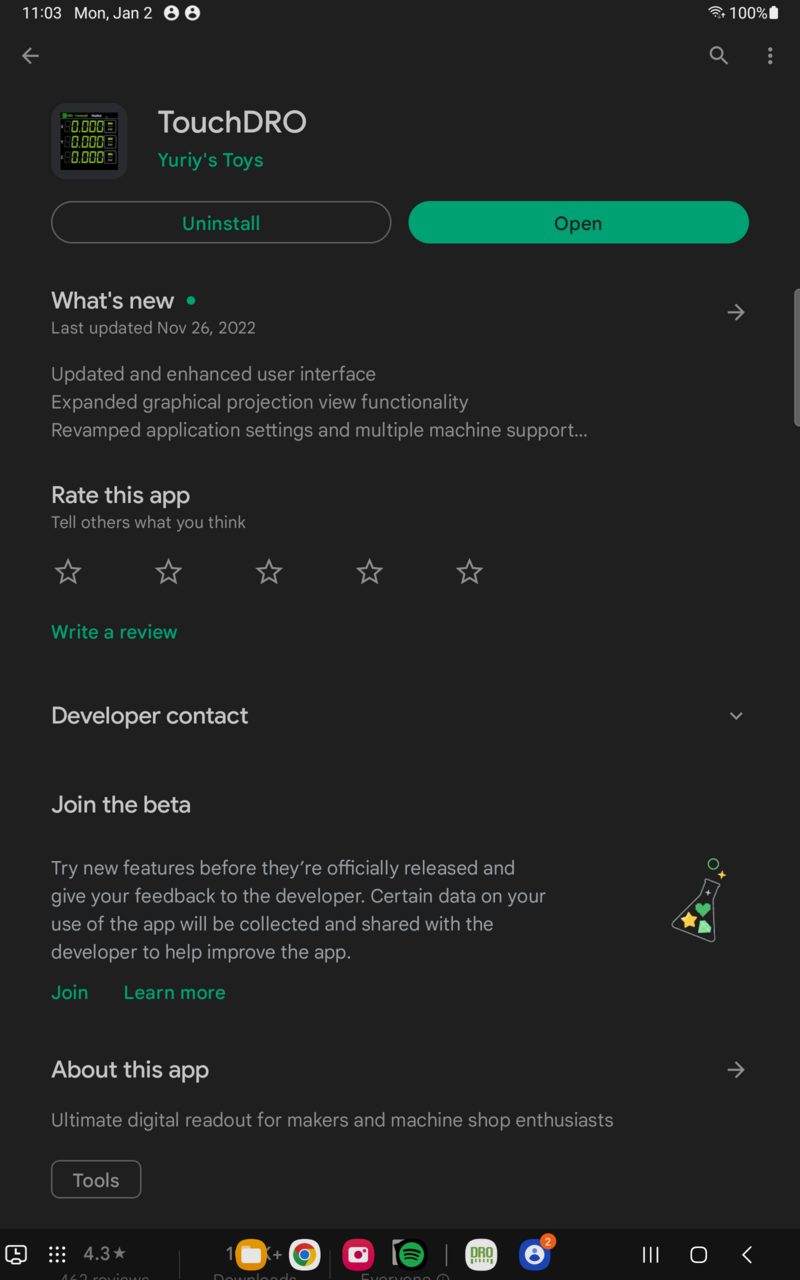 There is also a "closed" Alpha Testing track that gets more frequent builds (before they are promoted to the "Open" beta track). If you would like to participate in it, the steps are as follows:
Joining the TouchDRO Testing Google Group. (Access to the group is open to anyone; no administrator approval is needed)
Opt into the "Closed" testing track by clicking on one of the links below:
Update the application on the Android device
Please note that although care has been taken to thoroughly test the functionality, this is still a "Beta" build and bugs/problems can occur. It is not recommended to use the Beta version in critical production settings yet.
Release Highlights
Revamped User Interface
At first glance, the user interface in the new version is similar to the current version (V2.5), but in practice, it's completely new. The most obvious change is the new screen layout that includes a collapsible side panel, up to three individually customizable command buttons for each axis, and configurable function strip. There are many subtle changes that are less obvious. For instance, many of the buttons have secondary long press actions that provide a quick shortcut to expanded functionality. Similarly, many numeric input boxes accept basic arithmetic expressions, eliminating the need for a standalone calculator. Finally, TouchDRO now has an integrated help system that will display helpful tips, and provide links to relevant user manual sections right from the UI.
A more in-depth overview of the user interface can be found in the Tour of TouchDRO User Interface
Full-Featured Graphical Projection Display
Graphical workspace preview was introduced in version 2.5. Its functionality has been significantly expanded. In the new version, Graphical Projection View is a full fledged display mode that is optimized for working with complex layouts.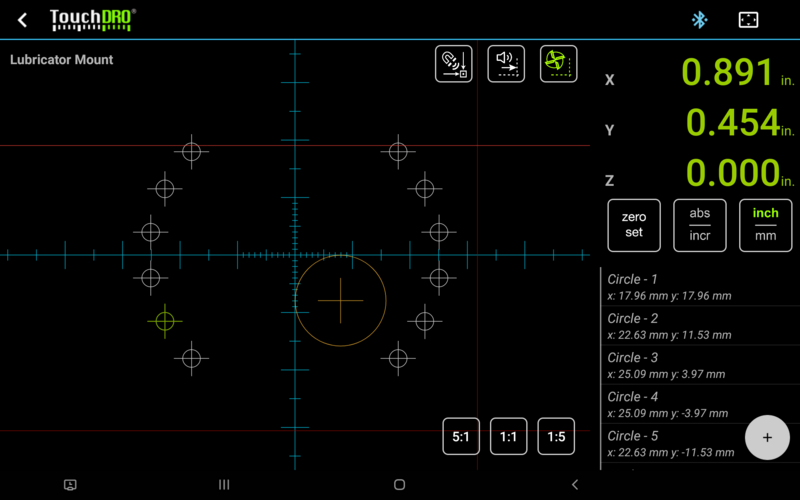 When the tablet is in "landscape" mode, switching between classic DRO mode and projection view is done with a single click. Better yet, TouchDRO now supports "portrait" mode that shows 2D projection right under the classic readout display.
Improved Tool Offset and Sub-Datum Memory
Working and managing saved tool offsets and sub-datum coordinates is much easier and more intuitive in the new version of TouchDRO. For instance, the saved sub-datum panel (AKA "Point List") has been revamped to simplify common operations. For example, the list now offers a way to select and manipulate multiple coordinates, and in milling machine mode, there is now a quick way to switch between 2D and 3D modes. Similarly, the user interfaces for defining and managing tools offsets have been completely revamped. In milling machine mode, cutter radius compensation and height offset are now split into two separate dialogs; tool radius and offset is visible in the graphical view mode. Programming and using lathe tool offset memory is fully redone and is now much more intuitive.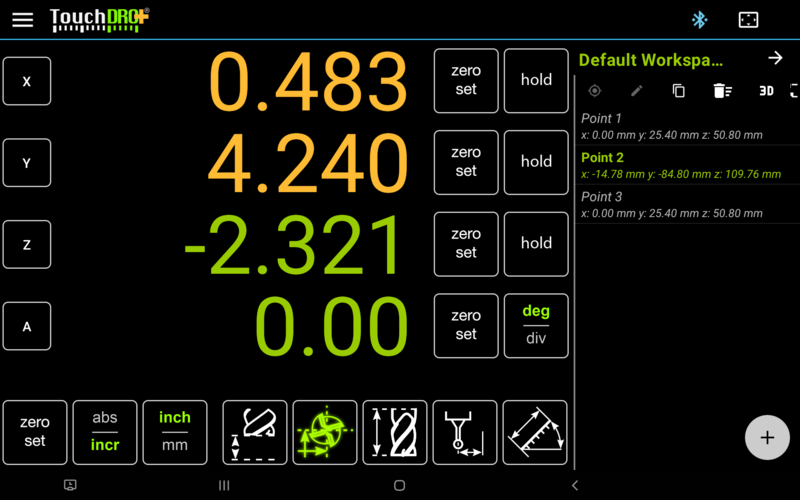 Powerful New Functionality
There are several powerful new features that will significantly speed up repetitive tasks. For instance, the "Indicate Workpiece" function provides a quick and convenient way to indicate workpiece edge or center, either using a manual edge finder or a digital touch probe. Similarly, the "Set Z Reference" function makes indicating the surface of the workpiece very easy using an inexpensive manual tool height setter. The per-axis "Hold" function provides a quick way to swap cutters on a manual mill or lathe, and using the angular axis in "Divisions per Revolution" mode makes cutting gears or making indexing plates a breeze.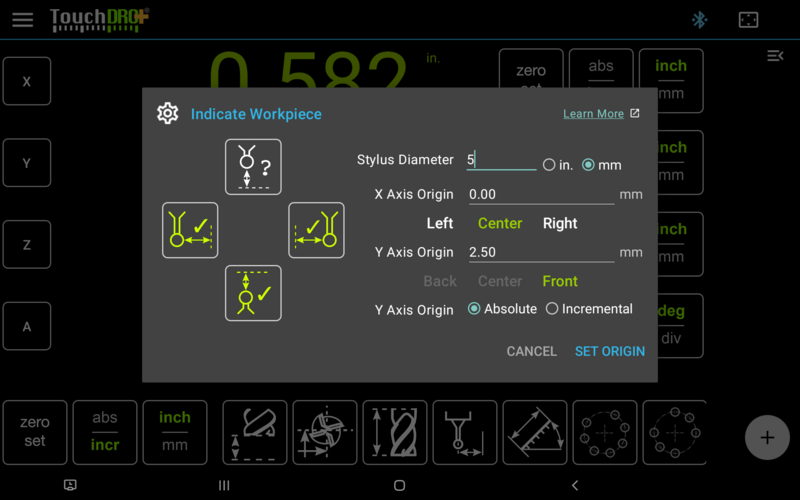 More Granular Configurability
Flexibility and configurability have been the hallmark of the TouchDRO projects. The new version takes it to the next level. In addition to the user interface customizations mentioned earlier, TouchDRO offers a fully configurable encoder input mappings. Each of the four displayed axis readouts can be mapped to two arbitrary inputs. This opens up the possibility to set up correct axis mappings on combination machines. To this end, TouchDRO can support multiple configurations. Each configuration can be treated as a fully encapsulated instance of TouchDRO, and switching between the configurations takes just a couple of clicks.
Conclusion
From the very start of the project the main goal for TouchDRO has been to offer a powerful, flexible, and affordable DRO system. The new version of the application will be a huge step above and beyond the current version. It offers better performance, more streamlined user interface, and powerful functionality that is often not available even on the high-end digital readout units. This page offers only a very brief and superficial overview of the release highlights.